Expansion Joints Manufacturers
Expansion Joints Suppliers
Searching for reliable Expansion Joint Manufacturers or If you're wondering what Expansion joints are and why they are necessary, this article is for you.
These bellow-like devices keep floors and walls in place while allowing movement. Learn why they are necessary for concrete buildings with large plans. They can even save you money, which may surprise you.
Please find out how in the below article.
What is an expansion joint?
An expansion joint is a type that allows for the expansion or contraction of structural elements. These expansion joints allow two structure sections to move independently by connecting them. Commonly, the joints are made of metal, plastic, or wood. These joints are critical when the structure's weight is heavy and there is no side support. Different factors can cause movement, including thermal expansion and contraction, building settlement, etc. hence an expansion joint came into play.

These joints are used to make joints in the material that can expand or contract according to temperature and humidity changes. This will allow it to extend or contract without cracking. It will also make your construction more durable. Without expansion joints, your material could break, and you'll have to start again. Expanding joints are a must for the construction of your house or office. Including expansion joints in your structure is essential if anyone lives in humid areas. Expansion joints can be made of several materials, including foam, plastic, and fabric.
Note: Please remember that Neeta Enterprise is the best Expansion Joint manufacturer. We offer the most affordable Expansion Joints in Mumbai.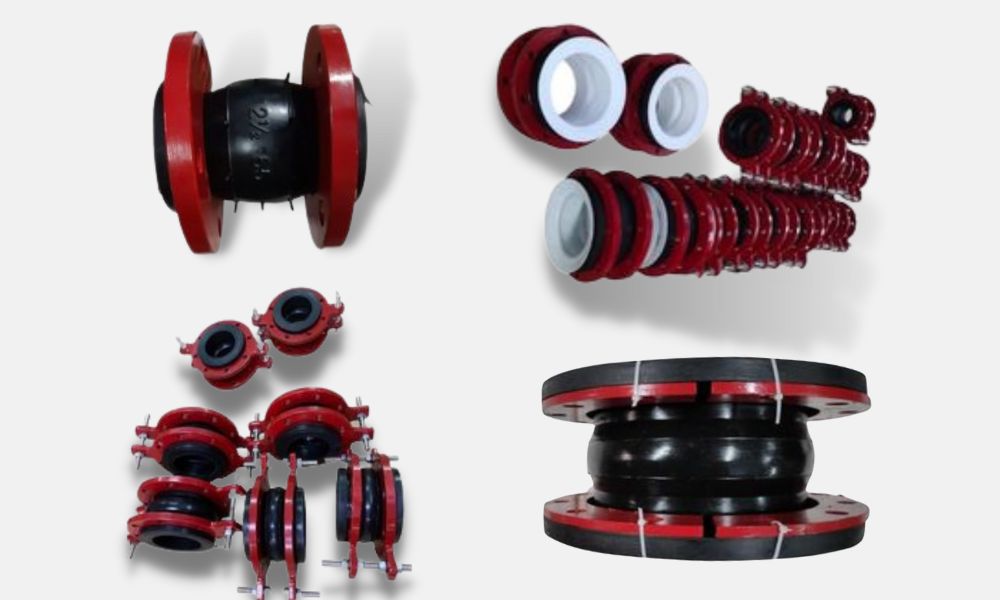 Rubber Expansion joints
A rubber expansion joint is a solid and dependable option if you are peeking for an expansion joint. Rubber expansion joints can absorb temperature and pressure changes. They are used frequently in plumbing, HVAC systems, and pipelines.

It is essential to consider rubber expansion joints' application and operating conditions. Rubber expansion joints absorb temperature changes that cause the textile to extend and contract. Usually, this is done with a rubber elastomer that can expand and contract without cracking.
Fabric Expansion Joints
Fabric expansion joints are flexible joints that absorb thermal expansion and contraction within a piping system. It is the most typical type of joint in construction. HVAC, process pipes, exhaust systems, and other applications use fabric expansion joints. These expansion joints can also be called compensators or expansion bellows. These joints are especially well-suited to systems operating at high temperatures, pressures, or both. Fabric expansion joints are typically built with high-strength fabric like polyester or Kevlar and can be strengthened with metal or other materials.

Fabric expansion joints are essential to many piping systems and can prolong the system's life expectancy by absorption expansions and contractions. These joints have been used for many years in creating structures and transportation. The fabric expansion joint allows two materials to expand or contract together without additional support. Its design is based on the elasticity principle, enabling it to flex easily when under load. It doesn't require special tools or equipment and can be placed anywhere in a building, even on walls not designed for expansion joints.
Rubber Expansion Joints
These joints are a perfect choice for piping systems. Many piping systems include rubber expansion joints. They can reduce noise, vibration, thermal expansion, and contraction. They are also flexible, and essential in systems subject to vibration or movement. They provide flexibility and allow for movement. These joints are used in HVAC, plumbing, and industrial piping systems.

They are usually rubber but can be constructed from other materials such as metals or plastics. Poor installation, excessive movement, or vibration are the most common causes of failure. It is essential to choose a reliable manufacturer when choosing rubber expansion joints. Make sure you choose a reliable manufacturer and follow all instructions. You can connect to Neeta enterprise. We are the best Rubber Expansion Joint Manufacturers.
MetallicExpansion Joints
A metallic expansion joint is a solid and reliable choice for those looking for an expansion joint. These joints can handle thermal expansion or contraction and are used in many industries, including power generation and chemical processing.

Metallic expansion joints have many advantages, including withstanding high temperatures or pressures. They are also easy to install and leakproof, making them ideal for multiple applications. You can find a metallic expansion joint to suit your application.
Bellow Expansion Joint
An expansion joint is a compensating component that absorbs thermal expansion or movements in a piping system. A bellows extension joint comprises one or more metal bellows connected and sealed at both ends by end caps. Bellows expansion joints can be used when large amounts of movement are expected, such as in HVAC and piping systems that transport high-temperature fluids.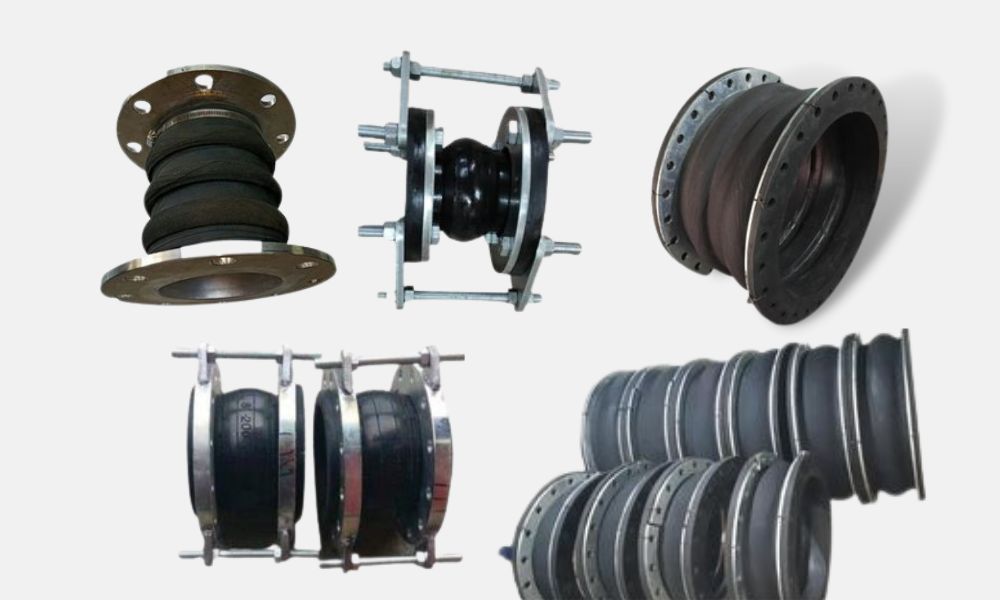 Importance of Expansion Joints
Construction professionals know how difficult building anything, from your home to a new factory, is. Many people don't see the importance of expansion joints in construction. Because they connect the walls, floors, and ceilings of a building, expansion joints are critical. They allow the building's expansion and compaction without causing harm to its foundation, walls, or ceilings.

Before a building is built, there are many things to think about. One of these factors is how much the building grows and shrinks. It is an essential part of the structure, so it doesn't get damaged. The building could fall without expansion if it succeeded or shrank too much. The facility needs expansion joints that can help the building last longer.
Bridge Expansion Joint
An expansion is an essential component of bridges. It reduces stress caused by building movement by thermal expansions. Expanding joints allow air and water to flow between bridges and buildings. This improves ventilation and insulates any space between them. These expansion joints are easy to operate and install. You can also use expansion joints to enhance the insulation of bridges.

For bulk orders of bridge expansion joints, you can connect with Neeta Enterprises. We are the best Ridge expansion joint manufacturers in India.
Building Expansion Joint
Expansion joints are used in construction when a building is being built to allow for movement of the floor and walls as the building goes up. An expansion is an essential building element because it will enable movement between one and another part of a structure.
The Pipe Expansion Joints
Pipe expansion joints are used to expand the diameter of pipes. It is used to extend a pipe's length or connect two pipes. Both the original and new pipes are made from the same material. The material is placed at one end and then expanded at the opposite end using a flexible tube. This Flexible pipe is an everyday use of expansion joints.

Pipe expansion joints can be used to accommodate temperature changes. Pipe expansion joints are mainly used in chemical industries and water treatment systems. It is made from metal, rubber, or fabric. For bulk orders of pipe expansion joints, you can connect with Neeta Enterprises. We are the best Pipe expansion joint manufacturers in India.
Expansion Joints In Concrete
Expansion joints are critical in construction for structural integrity. Concrete cracks can form in these expansion joints as well. We can avoid cracks by using proper construction techniques. We should use expansion joint wisely for all these activities. Concrete cracks can form if control joints are not correctly sealed. If these cracks are not properly sealed, they can cause various structural issues.

Cracking in an expansion joint can cause an uncontrollable shift in a concrete slab, leading to structural problems. Appropriate control joints can solve these issues. The project's specifications will determine your tools to make expansion joints. Concrete saws are precise and improve the appearance of the joints. Expansion joints are also to prevent various creaks in walls. Using proper expansion joints in walls and checking the walls can prevent cracks.
The advantages of using a joint expansion include
Preventing damage to the structure by accommodating thermal expansion and contraction.
The design is simple and easy to install.
Ability to accommodate a variety of materials.
Why Choose Neeta Enterprise?
Neeta Enterprise is the best Expansion Joint Manufacturers and Suppliers in Mumbai, Maharashtra, India. We offer high-quality bellows at the most affordable price to our customers. Our company also export these bellows to other countries like Saudi Arabia and Dubai. We have a competent team for designing high-quality bellows according to customers. We have a high potential manufacturing machine to create and supply these bellows.

We manufacture bellows-like rubber, shape, plastic, metal, non-metal, and expansion joints. We've spent a lot of money on new equipment and a team of experts to offer high-quality goods to our customers. The company has also created support staff to assist its customers 24/7. After all, the company is the most experienced player in manufacturing and exporting Bellows. Hence Neeta Enterprise is the best Manufacturer of Expansion Joints.