Fabric Bellows Manufacturers
Fabric Bellows Suppliers
Looking for a high-grade Fabric bellows Manufacturers. You got your path!!!.
Fabric Bellows are used for gas and air transportation in various industries. From flue gas installations to exhausts, dryers, ventilators, and exhausts, fabric bellows are used in multiple applications.
But before we move on, let's look at the different types.
What is the Fabric Bellow?
A fabric bellows can be described as an air sealing device frequently used in various industries. Fabric bellows are made of multiple materials like PVC, rubber, and steel. They're typically used to close the duct or pipe and stop air from entering. Bellows made of cloth is available in various designs and sizes, making them perfect for multiple purposes. These Bellows are employed in different industries, including manufacturing, construction fireworks, or military use. The bellows are the top-quality polyester fabric used as an air filter or dust collector.

The bellows are comprised made of two fabric layers, which are attached by a specific adhesive. This lets the bellows expand without breaking or tearing. They are constructed from various materials. The most commonly used size of the bellows of Fabric is 3/4 inches, but the sizes may differ. These Bellows contain attractive lines and surface designs that allow them to be used in various applications. They can be used in multiple ways and stay stationary while being used. Hence, Neeta Enterprise is the leader in manufacturing Fabric Bellows. We are the best Fabric Bellows Manufacturer.
Industrial Rubber Fabric Bellows
The industrial rubber-coated fabric bellows are made from high-end material coated with rubber. These bellows are light and durable and available in various shades. Additionally, they are simple to clean and are utilized in various applications. The industrial rubber-coated fabric bellows are ideal for various industrial uses. They also work with any compressor and other plastic and metal fittings. Industrial-grade coated fabric bellows provide the highest compressibility and flexibility. They are ideal for lasers and guideways with very low chip loads.

The bellows of this type are typically assembled using a heat-sealed or glued procedure. Cost-effective solutions for many industrial applications are a plus in both fields. Bellows come in various designs and sizes, including the standard roof forms. They can also be hung horizontally and strengthened with plastic strips. If you're unsure of the right bellow for your requirements, don't hesitate to inquire for a price. Neeta Enterprise is the best Industrial rubber-coated fabric bellows.
Fabric bellows Applications
Fabric bellows are versatile device that is used in various applications. However, these bellows are also used to protect machine parts from dust and other moisture. Make sure that the bellow is made from rigid, sturdy materials. It is vital to ensure that the bellow of your Fabric is well sealed. If you're looking to get the most of your bellow made of cloth, it is essential to think about the various applications. Ensure the Fabric below you choose to use is constructed from high-quality materials and is well-suited to the task.
Fabric bellows Material
Fabric bellows are constructed from synthetic or natural fibers, and then twisted to form tubes. It is covered with a substance that will stop the fibers from unraveling. Various materials are used to construct the bellows of Fabric. The most commonly used are rubber, metal, or even Fabric.
High-Temperature Fabric Bellows
Fabric bellows are used in various industries, such as oil and gas, chemical, and food and beverage. They are frequently constructed of a thermoplastic material, such as polyethylene, polypropylene, or polycarbonate. These materials are heat resistant and can withstand high temperatures. The thermoplastic material is typically extruded and then shaped. The shape is formed by either a mould or a die. The extruded material is then cut and trimmed to the desired length.
Product Features:
High-quality polyester fabric
Suitable for both indoor and outdoor
It can be used as an air filtration system
Available in different colours
Easy installation
High-Temperature Fabric Bellows Features
Easy installation
Excellent thermal conductivity
Long service life
Low cost
Fabric Expansion Bellow
A fabric bellow refers to a bellow made of Fabric. These bellows differ from rubber bellows because they are quieter and more efficient. These bellows are also much easier to clean than rubber bellows. The Fabric Expansion Bellow is used with fabrics of all sizes, saving you time and money.

Because it doesn't require chemicals or steam, the Fabric Expansion bellow is safe. A fabric expansion below, a type of flexible tubing used in the piping system, is called flexible tubing. It is typically made from rubber-coated Fabric.
Glass Fabric Bellows
Glass Fabric Bellows can be described as a type bellow made from a glass fabric. Glass fabric is a material made from molten glass. It is thin, flexible, and strong. It is also non-corrosive and has low thermal expansion. There are many uses for glass fabric bellows.

They are used to make glass bottles, jars, and jars to make glass beehives. A glass fabric bellow is employed for high-temperature and high-grade applications. On the other hand, the rubber-coated Fabric below is better suited to low-temperature applications.
Rubber Coated Fabric Bellows
Rubber Coated Fabric Bellows have a rubber coating that protects the Fabric and creates a slip-resistant, durable surface. You can pick from a wide range of sizes and colours. They are commonly used for connecting equipment or piping, not in the same plane.

You can use the fabric bellows in many different ways. They are used as a cushion or barrier, a bag, a sleeve, or a container. They are also employed as protective sleeves. Protective covers are often made from them for items to be stored. Fabric expansion bellows can be used when there is a need for flexibility.
Why Choose Neeta Enterprise?
We are among the leading Fabric Bellows Manufacturers and Suppliers in Mumbai, Maharashtra, and India. Our bellows are used in many industrial settings to guarantee they are high-quality. Our bellows last longer and are more durable. Our machine is specifically designed to make bellows. The bellows we offer are made from rubber that can resist the harsh requirements of industrial use. A bellow is an essential tool that is used by various industries. We have an expert team developing and producing it to perform effectively with multiple applications.

We offer a variety of other bellows-like shapes, expansion joints, fabrics, and so on. We are involved in the production and supply of various industrial equipment to customers all over the globe. We utilize high-end raw materials for producing tools and equipment that are strong, durable, and durable for use in various industries. Hence, Neeta enterprise is the best Fabric Bellows Manufacturer.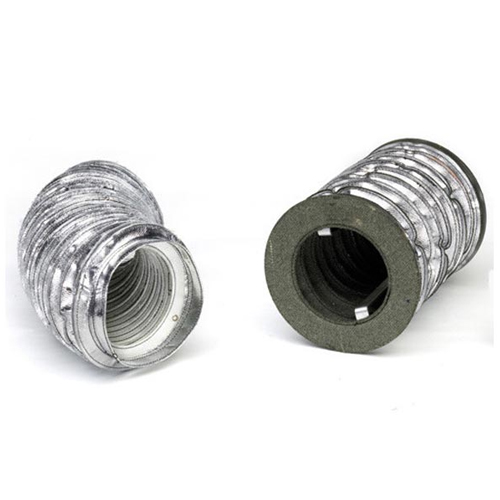 Hexagonal/ Rectangular/ Square, Fabric Bellows